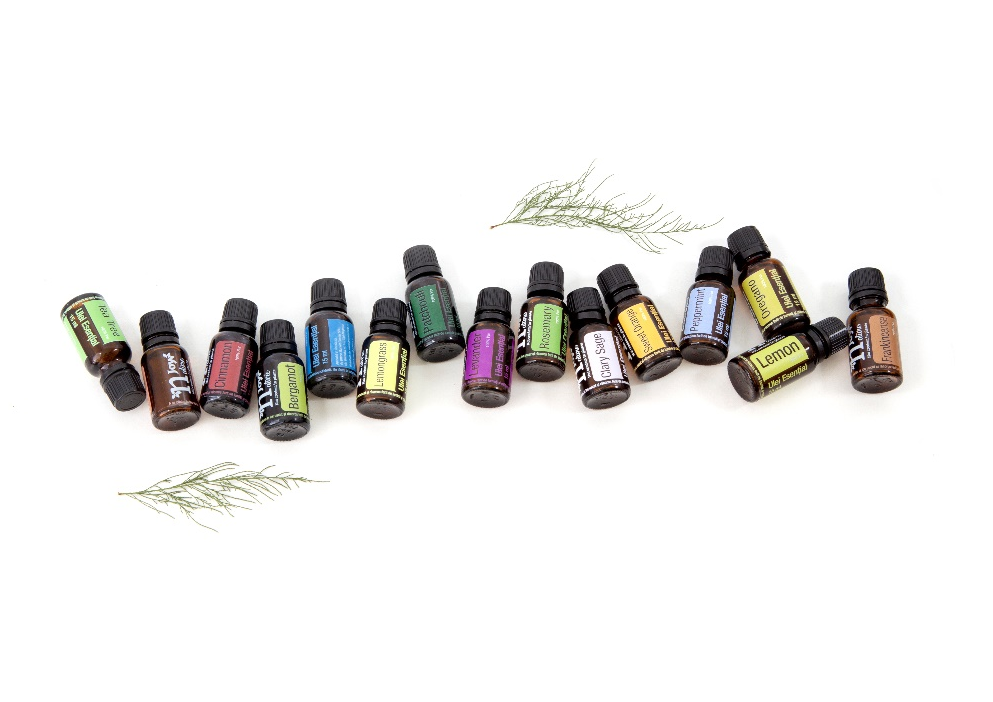 To harness the healing power of plants and improve well-being in your everyday life, you might consider adding essential oils to your mind, emotional and body care routine. Is it possible that a smoky bottle full of the concentrated essence of the plant has such a balancing power for our emotional state?
In case you didn't know, the sense of smell is deeply connected to the part of the brain that deals with our memories and memory, and there is an incredibly fast connection between smell and nervous system response. Perhaps you too have experienced a moment when you smelled something that propelled you back to your childhood or a precious memory that you hold in your soul and mind.
According to studies by the Johns Hopkins University of Medicine, these concentrated plant extracts are obtained by cold-pressing or steam-distilling different parts of a plant to obtain the chemical compounds that give it its unique flavor and properties. In addition to its pleasant smell, the plant compounds of essential oils can also provide possible benefits for our mental, physical and emotional health. For example, by inhaling a soothing aroma such as Lavender, we can relieve stress, enjoy a state of peace, or have a restful sleep. Or when you apply Mint essential oil to your temples it can relieve headaches and tension, according to Johns Hopkins University Medicine.
However, there are certain steps to using essential oils effectively and using them safely. Below is a selection of expert tips and ideas on application, safety, storage and many other creative ideas for using essential oils:
1. Always work with a certified Aromatherapist or consult a specialist doctor before using essential oils
One of the biggest misconceptions about essential oils is that because they're natural, they're safe to use, as Yufang Lin, MD, an integrative medicine specialist at the Cleveland Clinic in Lakewood, Ohio, tells us.
Well, essential oils are highly concentrated and potent, and only a small amount is needed to create a possible wellness effect. Furthermore, essential oils can affect people differently, for example, diffusing Peppermint essential oil may be helpful for one person's headache, but may cause an adverse reaction for someone with a fast heartbeat, according to studies Johns Hopkins University. Also, certain essential oils are not recommended during pregnancy because they can stimulate or cause uterine contractions.
Always consult a specialist, a certified aromatherapist to be properly informed about the use, safety and dosage of the essential oils you wish to use, especially if you are a beginner, have children or pets or are expecting a baby.
2. Don't assume that all essential oils are made equally and properly
The quality of the essential oils you find on the market varies greatly. Some essential oils contain synthetic ingredients instead of natural ones, so they may have the specific smell of the plant, but they don't have the natural compounds responsible for the properties you're after. Always do your research to make sure the essential oils you choose are quality and pure. When buying an essential oil, always check the label and make sure it lists the Latin name of the plant, the purity of the oil, and the ingredients. Also, check the country of origin of the essential oil you wish to purchase.

3. Store essential oils in a cool, dry place away from direct sunlight
Just like food and cosmetics, essential oils also have an expiration date. Certain essential oils have a shelf life of a few months to a year, and others last up to 2 or 3 years. Citrus essential oils such as Bergamot, Orange or Verbena have a short lifespan, and floral ones such as Lavender or Chamomile have a much longer lifespan.
However, exposure to heat damages essential oils, so it is recommended to store them in a cool, dry, shaded area to extend their shelf life. Close the bottles well after you use them, so they don't oxidize.
4. Keep essential oils away from children or pets
Even though certain essential oils can be beneficial for children, it is important to keep them away from them as much as possible with cleaning products. Many essential oils can cause adverse effects when ingested due to their potent concentration. Similarly, essential oils can also harm animals when ingested. Even inhaling them or applying them to the coat could cause adverse effects to pets. Do your research on what essential oils you can use when you have children or pets around.
5. Do a test on a small area of ​​skin when you want to use an essential oil topically
Essential oils are often applied directly to the skin when we have a massage, a hot bath, or when we use a skin care product. It should be noted that if you want to apply essential oils topically, you should always do so with a carrier oil such as jojoba, avocado, coconut or olive oil. There is always a risk of skin irritation, and it varies from person to person. This irritation can result from an allergic reaction and is often characterized by skin redness and stinging immediately after applying the oil. That is why it is useful to do a test on a small part of the skin before applying it all over, especially if you are more sensitive to allergic reactions.
6. Remember to use carrier oil for proper dilution of essential oils
Due to their high concentration, most essential oils can cause irritation if applied directly to the skin without being diluted first. When applying an essential oil topically, you should always mix it with a carrier oil to prevent allergic reactions or irritation. These carrier oils are found in health food or homeopathic stores and include jojoba, avocado, grape, apricot kernel, sweet almond, coconut or argan oil. If you want to make a massage oil at home, dilute the essential oils properly in a carrier oil of your choice, i.e. 1 drop of essential oil for every teaspoon of carrier oil.
7. It is recommended to always know which essential oil you are using
Essential oils can be found in many cosmetic products for the skin, face or body, used in aromatherapy and in home products. These are often used in massage therapy as well. And because essential oils can affect people differently, it's important to check what essential oils are in the products you use in your daily routine and always ask your therapist what oils they use, if any, to protect yourself from possible reactions and irritations. It is recommended that you do your research on the oil you plan to use to ensure there are no risks or contraindications, for example if you are pregnant or taking certain medications. If you have any uncertainty about the essential oil or oils you want to use, consult a professional, certified aromatherapist or homeopathic physician.
8. Do not use photosensitive essential oils in direct sunlight
There are essential oils that are photosensitive, which means they can create a reaction when exposed to ultraviolet rays. If you apply these essential oils to your skin and expose yourself to direct sunlight, this reaction will cause your skin to become red, irritated, discolored, or even burned. Citrus essential oils such as Bergamot, Lemon, Lime, Orange, Angelica or Geranium are particularly sensitive to light.
Protect yourself from sunburn and other side effects by waiting at least 12 hours after applying essential oils and do not expose your skin to direct sunlight.

As a conclusion, we can say that essential oils are help from Nature for us, and these powerful natural essences can make our lives more beautiful, more fragrant and, why not, healthier. We must always use them with care and skill, know the right dilution, and have a precise intention and purpose when we integrate them into our lives. If you are not sure or lack information about certain oils, it is recommended to consult a specialist, therapist or aromatherapist who can inform you accordingly.


nJoy! ❤️