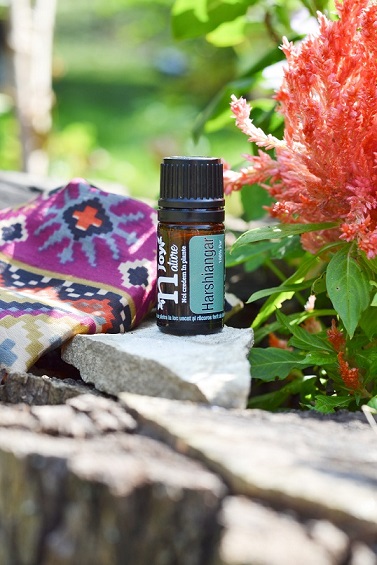 What a joy it is for the nJoy Nature family to handle the most beautiful aromatic natural treasures. They are miracles kept in smoky bottles, able to perfume our lives and gently guide us towards a state of well-being. We just love them! Each oil is special in its own way, but if we had to choose a favorite oil, although such a classification is not worthy of something so precious, we would handily choose Harshiangar essential oil. It is absolutely divine and has blown our olfactory senses, having a simply exotic aroma, warm and strong, a floral tonic that refreshes all our senses and fills us with love.
Harshiangar essential oil, Nyctanthes arbortristis, is a shrub that grows up to 10 meters tall and belongs to the Oleaceae family. The geographical distribution of the plant extends from northern Pakistan and southern Nepal, through northern India and the southeast, to Thailand and also to other parts of the world in tropical and subtropical regions.
"Nyctanthus" is formed from two Greek words: "nykhta" (night) and "anthos" (flower). The specific name "arbortristis" meaning "sad tree" is thought to be derived from the tree's dull appearance during the day, its flowers only opening at night. It is also known as Parijata, Shefali, Kannika, Coral Jasmine or Night Jasmine.
The entire tree, including the leaves, flowers, bark, seeds and stem, is known for its amazing medicinal properties, having been used in various traditional and alternative healing methods for more than thousands of years. Harshiangar essential oil is extracted from the leaves, flowers and seeds using the steam distillation method. This healing herb has been used in Ayurvedic medicine to treat arthritis, sciatica, fever, pain, constipation, anxiety and rheumatism.
It works on an emotional, mental and physical level, being, like the actual Jasmine essential oil, a warming oil. Together with Rose oil, it is important for the female reproductive system and facilitates childbirth. Harshiangar oil unlocks energy, balances the heart chakra and revitalizes. It is very helpful during meditation and spiritual rituals due to its ability to reduce inhibitions, increase intuition and imagination.
We in the nJoy Nature family use Harshiangar essential oil with confidence and joy, applying it topically, in massage oil, in the hot tub or as a diffuser blend. As a massage oil, we mix 15 drops in 30 ml of carrier oil such as jojoba, avocado or almond and massage the skin or scalp with it; its properties are beneficial for hair and skin. In the hot tub we use it for relaxation, putting 10-15 drops together with a cup of Epsom (magnesium salt) or Himalayan salt. As a diffuser blend, we add 9 drops of Grapefruit essential oil, 6 drops of Harshiangar and 3 drops of Rosemary, for a touch of happiness and lots of love.
Harshiangar essential oil helps us open our souls, love more intensely and dream more beautifully. Njoy Nature recommends this oil with confidence and love. It is an aromatic wonder that balances and harmonizes, offering a state of well-being and inner peace from the first sniff.
Harshiangar...what a miracle!