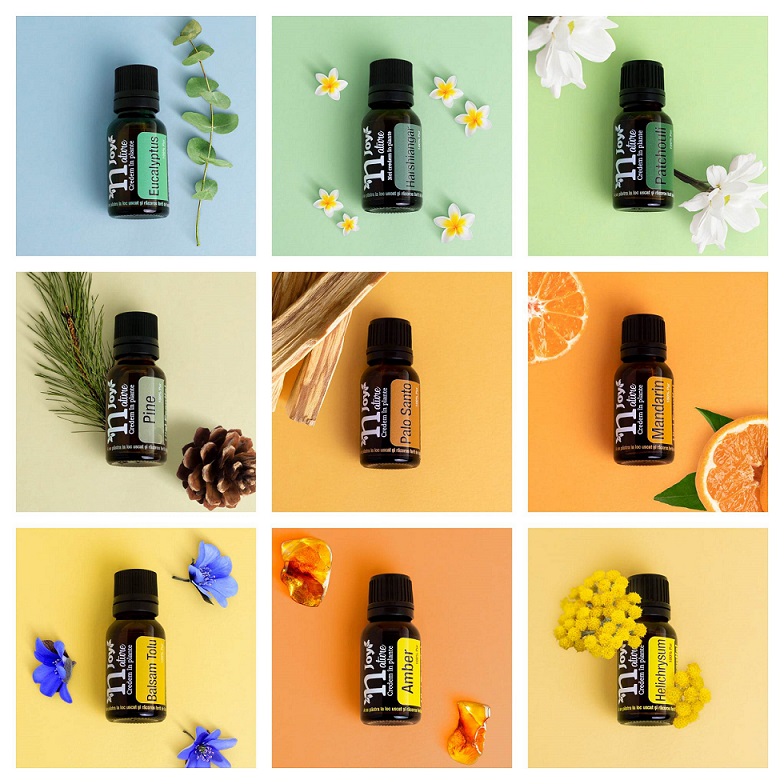 Aromatherapy is a useful practice when you are ready to open your horizons to a new alternative of healing and taking care of your health. Even if you want to experiment with this side of aromatherapy, that of essential oils, just for the purpose of relaxing and de-stressing, it is advisable to know some safety precautions when using them.
It is very important to talk to a specialist when you decide to enter this world of strong essences, to make sure that you have properly documented yourself and that you have checked the quality of the essential oils that you intend to integrate into your life.
ARE ESSENTIAL OILS SAFE?
Essential oils are extracted by natural processes of distillation or cold pressing from plants, wood, resins, etc. These are highly concentrated extracts, they need to be handled with care and properly diluted.
Integrating aromatherapy and using essential oils into your daily routine isn't that hard to do and you shouldn't worry and think it could be dangerous, but like anything new, it takes time of introspection, discipline, research and the accumulation of information and experience so that you can truly enjoy their fragrant magic. It is important to know the risks and dangers, to learn how to use and dilute the oils, to understand how the properties of each oil work individually and how you resonate together.
So that you can use pure essential oils with peace of mind, I'm going to help you with a list of useful rules and tricks that tell you about essential oil safety precautions. Dos and don'ts when using essential oils?
21 RULES YOU NEED TO KNOW WHEN USING ESSENTIAL OILS
1. Consult a specialist! It's much easier to integrate essential oils into your life when you have safe support and direction. A specialist, homeopathic doctor or aromatherapist, can support you and give you valuable information regarding dilution, properties and use.
2. Essential oils should always be properly diluted before being used on the skin. They are diluted in vegetable carrier oils, jojoba, avocado, almond, argan, coconut, olive, etc., about 30ml of carrier oil for 5-20 drops of essential oils (1-3% dilution). When an essential oil causes itching or irritation, wash your hands quickly with soap and water and apply only the carrier oil to the affected area. You can also apply another hand, body or face moisturizer.
3. Some oils may cause irritation, sensitivities or allergic reactions in some more sensitive people. If you are one of them, you should be cautious when using essential oils for the first time. When you want to use a certain essential oil on your skin, do a skin test first: apply a drop of your chosen oil diluted in a carrier oil to a small area of ​​your skin and wait to see if your skin resonates with this oil. Fortunately, you are free to use the blend obtained on your skin, and otherwise, if irritation occurs, wash well with soap and water and apply a little vegetable oil or moisturizing cream to the affected area.
4. Certain essential oils can be phototoxic and can cause irritation, inflammation, blistering or redness when exposed to UV rays. So, be careful and document thoroughly when you want to apply essential oils to your skin and want to expose yourself to the sun. Oils such as Geranium, Bergamot, Lemon, Lime, Bitter Orange, Cumin, Angelica or Grapefruit are phototoxic, and after applying them to the skin contact with the sun should be avoided for 12-24 hours.
5. Keep essential oils away from eyes, genitals, mouth, nose or ears. Having a high concentration of chemical compounds, they can affect the eyes or sensitive areas. If it does, wash with soap and water, then apply a generous amount of vegetable carrier oil. Of course, consult a doctor or specialist if the irritation or stinging has not gone away.
6. When using essential oils in the hot bath you need to know certain things: do not drip the essential oils directly into the water, because they are not soluble in water, but mix them first with 50-100 gr of bath salt or epsom salt, and then add the composition to the hot water.
7. Certain essential oils should be avoided during pregnancy or by people with asthma, epilepsy or other health problems. And for those that can be used during pregnancy, a maximum dilution of 1% is recommended, i.e. 5-7 drops of essential oil in 30 ml of carrier oil. Oils suitable for pregnancy are Caraway, Melissa, Lemongrass, Lavender angustifolia, Mandarin, Chamomile, Tea Tree, Thyme, and essential oils that cannot be used during pregnancy or breastfeeding are Anise, Carrot Seed, Cinnamon, Cypress, Dill, Fennel, Camphor, Spanish Lavender, Myrrh, Oregano, Myrtle, Parsley, Clary Sage, Thuja, Cedar, Wintergreen, Wormwood, Yarrow/Yara Yara or Mouse Tail.
8. Less is always better when it comes to essential oils! Use the oils in small quantities, if the recommendation is 1-2 drops, do not risk putting more, due to their high concentration. Remember that we are talking about the essence of the plant and its chemical compounds concentrated in 10-15 ml.
9. Not every essential oil is suitable for Aromatherapy: Wormwood, Onion, Pennyroyal, Camphor or Wintergreen are some examples of oils that are not recommended by aromatherapists for diffusion.
10. When we use essential oils for children, the elderly, pregnant women or people with low immunity, we use a maximum concentration of 1%, i.e. 5-7 drops of essential oil in 30 ml of carrier oil. Direct inhalation is not recommended. When you want to use essential oils for children, look for those recommended for them.
11. Essential oils oxidize over time and can become much more harmful, meaning they can cause sensitivities or irritations. Avoid using old oils or those that have been kept in uncertain conditions when you want to apply them to the skin or for therapeutic purposes. If you want to know more information about keeping and storing essential oils, you can find it here.
12. Keep essential oils out of reach of children or pets! Treat oils as highly concentrated medicinal tools that can become dangerous in the hands of the uninitiated.
13. The blends we use for ourselves are not always suitable for use on pets (dogs, cats, horses, birds or other animals). At the same time, the oils are not applied to the skin or fur of pets. You must always make sure that they can leave the space where you are diffusing the oils, and if certain side reactions occur, stop diffusing and ventilate the space.
14. Do not diffuse essential oils continuously and make sure the space where you use them is well ventilated. Essential oils diffused are beneficial to our body in the first 20-30 minutes of diffusion, so it is good to take a break between diffusions. You can choose to purchase a speaker with an automatic or programmed shut-off system.
15. Essential oils are not recommended for internal consumption. However, if you decide to try them, please do so only with a qualified specialist. You have to understand that these essential oils are highly concentrated and the chemical compounds in them, even if they are natural, could create damage in the body. So, consume essential oils responsibly and when you have all the necessary information. Most specialists confirm that essential oils are for external use only!
16. Essential oils are flammable. Keep them in a safe place and away from fire or other hazards.
17. You can use old or oxidized essential oils to repel insects from your yard, garden, or patio, to clean gardening tools, or to clean your home.
18. For people suffering from asthma or epilepsy it is recommended to avoid Rosemary, Fennel and Hyssop essential oils.
19. For people with high blood pressure it is recommended to avoid the essential oils of Clove, Black Pepper, Hyssop, Peppermint, Rosemary, Sage and Thyme. And people with low blood pressure should avoid excessive use of Lavender essential oil.
20. Those allergic to nuts cannot use almond or hazelnut carrier oils. Safe alternative oils for these are sunflower, canola, jojoba or safflower oil.
21. For people with diabetes, it is recommended to use essential oils that contain a low ketone level, such as Angelica. High ketone oils not recommended for diabetics are Peppermint, Rosemary, Sage, Spearmint, Spike Lavender, Turmeric, Valerian or Vetiver essential oil. Dill and Fennel essential oil are helpful because they help balance the pancreas.
In conclusion, essential oils are wonderful tools of Nature that can help, stimulate, balance, relax or calm us, but they are not for everyone. Because they stimulate and alter hormones in the body, for some more sensitive people they could create more problems than benefits. So, please be careful when using these potent vials, consult with a specialist to be on the safe side, and be properly informed from reliable sources about each essential oil you wish to incorporate into your life!
nJoy! ❤️