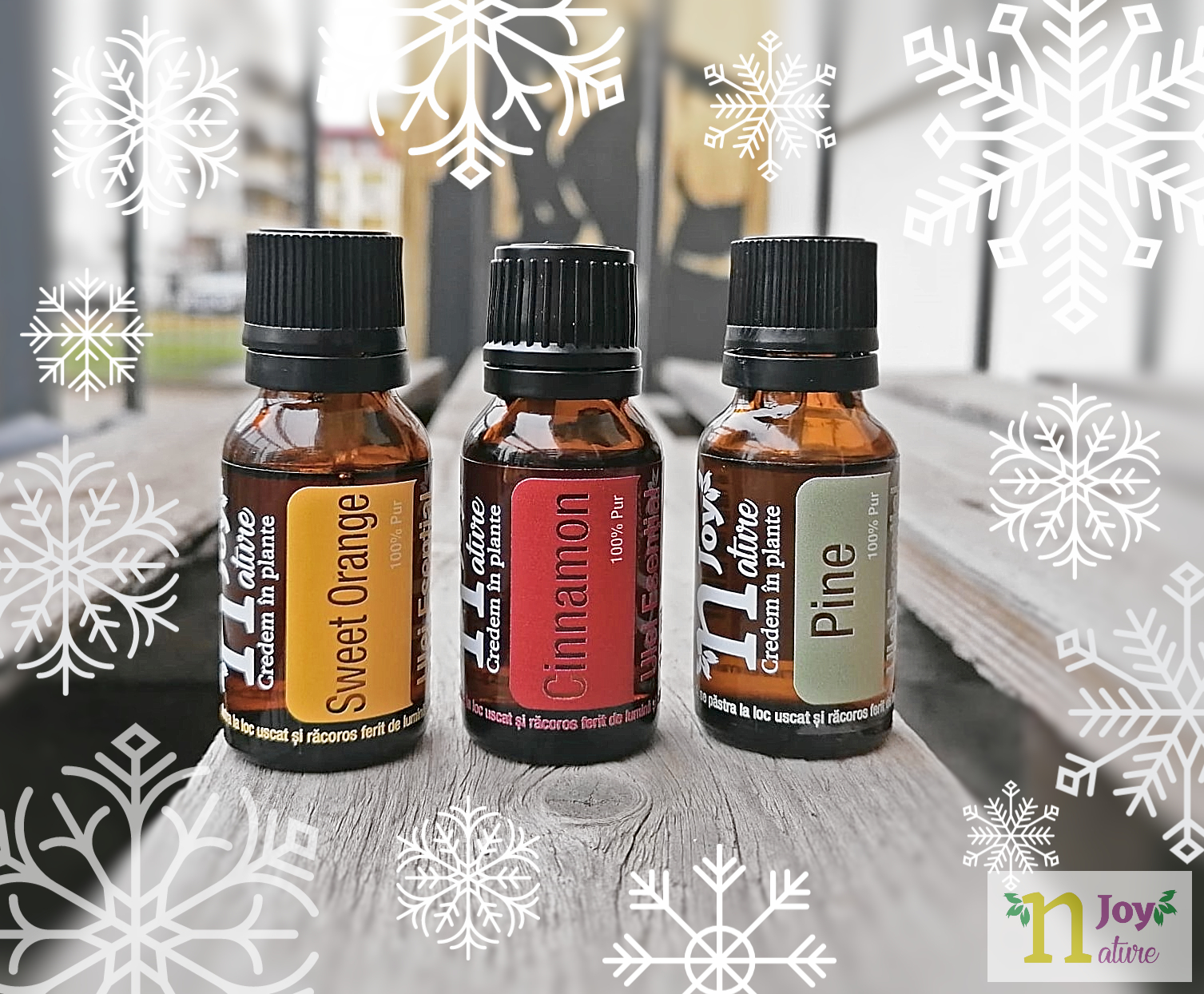 I love this magical time, when we focus all our attention on the idea of ​​giving with love and joy and connecting with our loved ones. It is the time when we are kinder and more generous to those around us, when it comes very easily to us to help the less fortunate.
We have a moment of introspection where we focus on all the experiences we have gone through this year, whether pleasant or unpleasant, a time when we need to be gentler and understanding with each other. The magic of winter helps us de-stress and comes to our aid with the cold air full of freshness, with the cold that urges us more to nestle in the comfort of our home and with the well-known aromas that take us back in time and connect us with magical moments of past Christmases. Who doesn't cheer up when they smell orange, cinnamon and pine?
The smell of the Christmas tree and the evergreen forest when you take a walk through the snow crunching under your feet. The smell of oranges and cinnamon from fruit punch or mulled wine that reaches your soul and warms you completely. These are part of Nature's moments that transform the cool and static season into one full of magic.

Essential oils provide important support in maintaining balance during this cold and oppressive time for most of us. They are effective natural tools for lifting the mood and reconnecting with ourselves, with our inner child. And we already know that a simple fragrant drop helps our brain to de-stress and recalibrate in a very short time.
Sweet Orange essential oil has an uplifting aroma and is widely known and used in the world of aromatherapy. It is a joy-bringing oil, a wonderful anti-depressant, being also liked by the little ones, which fills us with positive and bright notes, full of freshness. It connects us beautifully with the energy of Christmas and brings a big inner smile when we smell it. In addition, Sweet Orange essential oil has a fruity and sweet aroma that warms the soul, similar to the peel of a freshly peeled orange, a fresh smell that envelops us with joy.
Who doesn't know the sweet and delightful smell of Cinnamon, an exotic and fragrant aroma that many of us love? Cinnamon essential oil is noted for its wonderful aromatic properties, being used in perfumes, room fresheners, cosmetics or cleaning products. In addition, it is a warm oil, very suitable in the cold period of winter because it strengthens the immune system and purifies on all levels. It fights flu and colds, being helpful in reducing fever. In addition, it is also a powerful aphrodisiac. Cinnamon essential oil is sweet, energizing and refreshing. It helps us to be more optimistic and to enjoy everything that is good around us. Plus, once smelled, it makes us think of cinnamon rolls and hot cocoa, a fitting dessert for Christmas, right?😊
Pine essential oil instantly transports me to a winter fir forest. Did you know that Pine essential oil is extracted from the needles, twigs and cones of the tree by steam distillation? It is a complex and powerful aroma that instantly conveys the idea of ​​freshness, health and purification. It is a good help when we have respiratory problems, such as bronchitis or pneumonia, for example. This oil has an uplifting aroma that combats chronic fatigue and mental fog, provides clarity and connects us to the Earth's telluric energy. A fresh, earthy scent with woody, conifer tones, brings the fir forest home to you. Pine essential oil is very helpful and should not be missing from our homes this time: it warms and relaxes the muscles, it is a good treatment for skin diseases or injuries, dissolves emotional stress and improves circulation. In addition, used in combination with Orange and Cinnamon essential oils, it creates a magical and soothing Christmas atmosphere.
In conclusion, I wish you a mild and bright winter, a quiet and aromatic Christmas with your loved ones and a New Year full of revelations. It's a magical time, full of love and gratitude!

nJoy! ❤️